Our Offers: Gellért Thermal Bath Széchenyi Thermal Bath Cave Bath of Miskolctapolca Lake Bath Hévíz
GELLÉRT THERMAL BATH
Located in the same building as Gellért Hotel, but operating independently of it, Gellért Thermal Bath is one of Budapest's most renowned and beautiful bathing spots. The complex at the Buda end of Liberty Bridge was opened to the general public after World War I, but a bath has stood here as far back as the Middle Ages. There are 12 pools in total, including swimming pools and thermal water baths ranging from 21 °C to 40 °C, plus an array of saunas. The Art Nouveau thermal steam baths comprise four pools spread across two chambers. Each room is clad in turquoise and marine-green Zsolnay mosaics and ceramics, punctuated by neoclassical cherub statues and striking botanical friezes. The large swimming pool outside is famous for its 1920s wave machine. The bath's thermal water is drawn from a catchment constructed around natural springs within the heart of the mountain and contains sodium, calcium, magnesium, hydrogen carbonate, sulphate chloride, and significant traces of fluoride ions, making it singularly suited to the treatment of degenerative articular diseases, spinal maladies, chronic and subacute joint inflammation, spinal disc complaints, neuralgia, constricted blood vessels, and other circulatory disorders. The Gellért additionally boasts an inhalatorium, used to alleviate asthma and other chronic bronchial complaints. Gellért Bath is also a popular filming location, with scenes of several Hungarian and international productions shot both indoors and outdoors.
SZÉCHENYI THERMAL BATH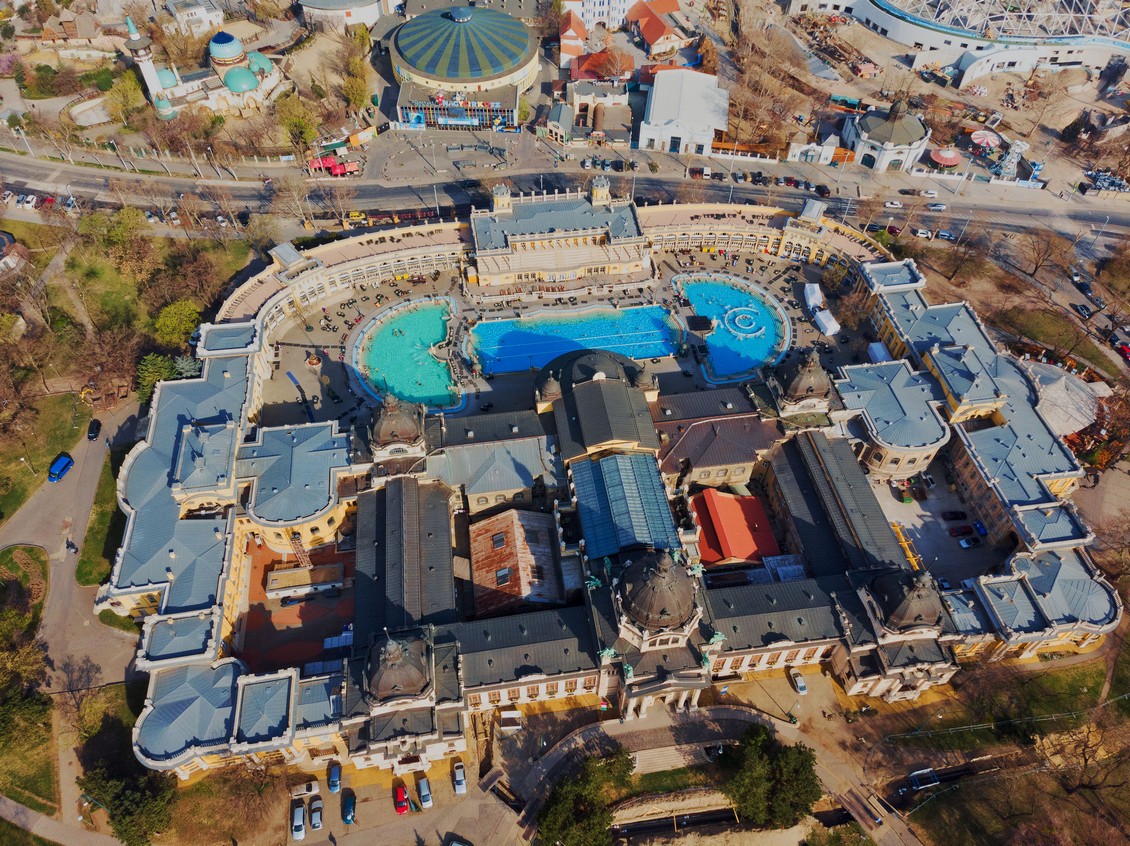 Széchenyi Thermal Bath is the largest spa complex in Budapest and one of the biggest baths in Europe. The spa is located in the heart of City Park, surrounded by Heroes' Square, Vajdahnyugad Castle, the Museum of Fine Arts, or the Budapest Zoo and Botanical Garden. You can choose from 18 medicinal water pools, and can also try the outdoor adventure pool, hot tub, swimming pool or drift pool. Visitors can enjoy numerous wellness and fitness services: saunas, aqua-fitness and steam chambers. Guests can also try extra services such as beer baths. The water here is recommended for the treatment of degenerative joint and spine diseases, chronic arthritis, orthopaedic and post-traumatic rehabilitation, spinal conditions, neuralgia and calcium deficiency in the bone system. The water in the drinking hall is suitable for treating various internal medicine problems. No matter how long we make the list of the positive health benefits of the Széchenyi Thermal Bath's water, the facility is recommended not just to medicinal water lovers, but also for those who adore unforgettable parties after dark. The Széchenyi Thermal Bath awaits partygoers every weekend between February and December, with one of the most visited series of events in the Hungarian capital, SPArty, where they can take part in a really memorable night party topped with spectacular lights and sophisticated electronic music.
CAVE BATH OF MISKOLCTAPOLCA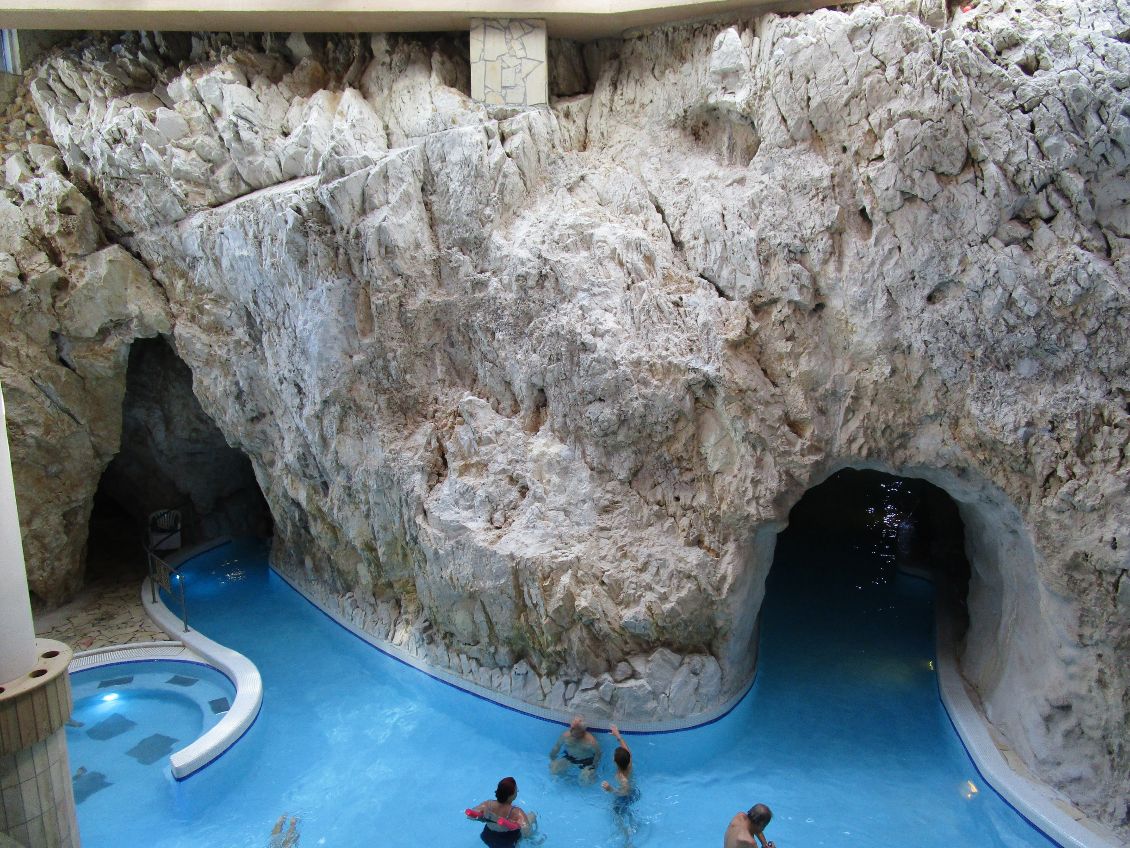 Only two hours away from the Széchenyi and Gellért baths in Budapest, there's another impressive bath worth visiting in Miskolctapolca which is a suburb of Miskolc, the third largest city in Hungary with a surprise attraction for spa-seekers. The cave bath of Miskolctapolca is regarded as a curiosity not only in Hungary but also in the whole of Europe, mainly due to the unique natural setting, which can be boldly said to be beautiful and breathtaking, on the other hand, due to the water found here. There is no other thermal bath in Europe that has such a high temperature in the karst, what is more, its salt content doesn't reach even 1000 milligrams/ liter, so guests can stay in that for an unlimited period of time. There are 6 different pools throughout the cave that are back-lit and connected by bridges and tunnels. Outside the cave, 6 more adventure pools welcome the visitors who can also make their day as luxurious as they want with an on-site massage, sauna and even float spa options.
LAKE BATH HÉVÍZ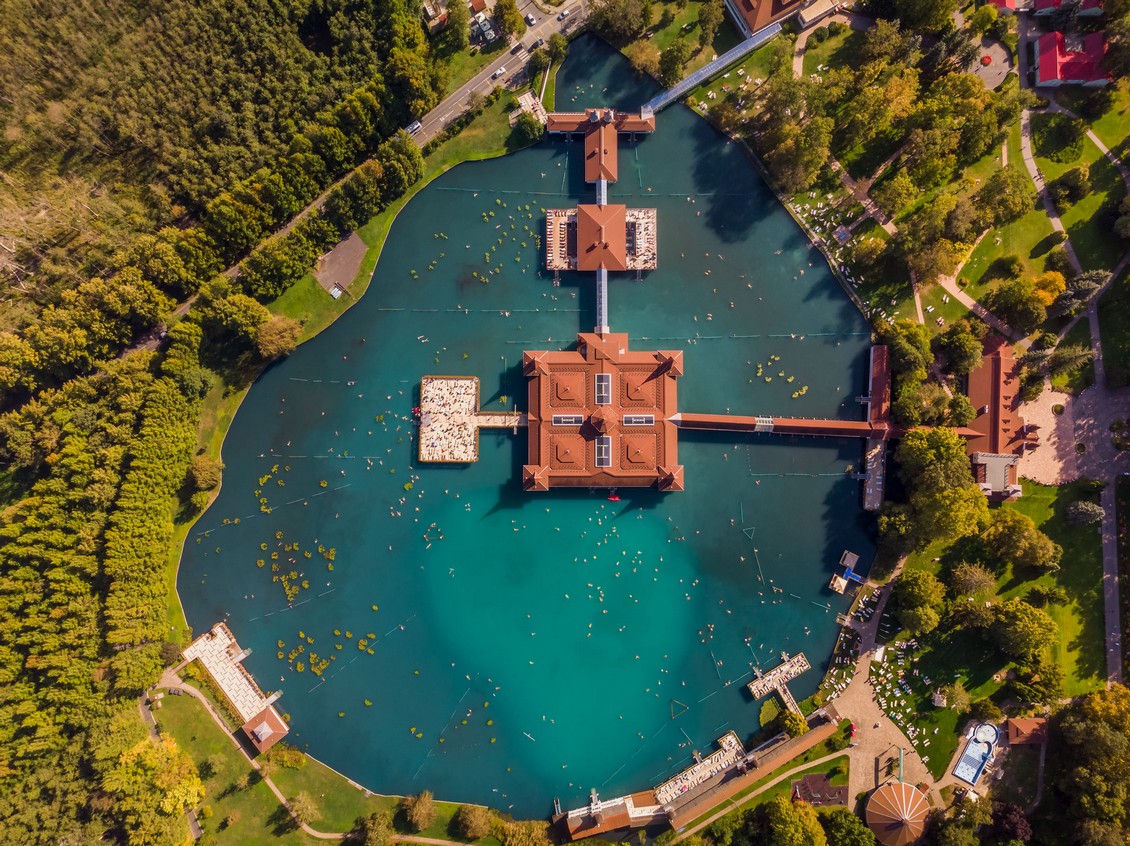 Lake Hévíz is located in Hévíz, near the western end of Lake Balaton, only 8 kilometres from Keszthely. It is the largest thermal lake in the world which is available for swimming. Lake Echo of New Zealand is larger and its water is warmer, but it cannot be compared to the particularities of the Hungarian lake as it is not suitable for bathing and cannot be used for medical purposes. The source of the 4.4 hectare water surface lake, rich in sulphur, and minerals can be found 38 metres deep in the cave, which due to its high well capacity completely changes in every 72 hours. Its tempereature is 34-36 °C in summer and 24-28 °C in winter, so guests can enjoy its goodness in every season. The water of Lake Hévíz contains an equal proportion of dissolved and gaseous substances, thus unifying the favourable characteristics of thermal waters rich in carbonic acid, sulphur, calcium, magnesium, hydrogen carbonate. The water is beneficial to patients suffering from rheumatic diseases and locomotor disorders, among others.