Our Offers: WATER LIMOUSINE CRUISES VINTAGE YACHT CRUISES YACHT CRUISES
WATER LIMOUSINE CRUISES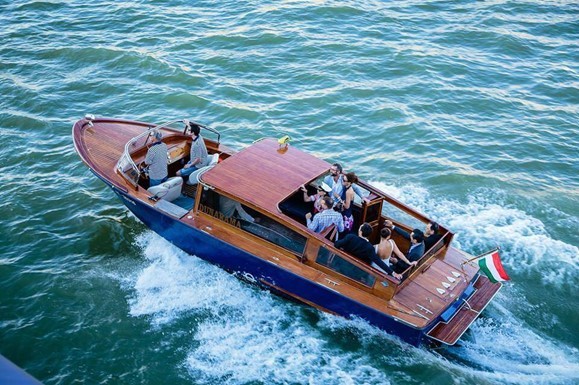 Similarly to the water limousines in Venice, the boats satisfie the most exquisite needs with its comfortable and elegant design and luxury lounge feeling. They can board 10 passengers (2 boats are available). These elegantly furbished boats consist of a small closed cabin and an open platform in the back. The exterior is covered by mahogany and the interior is stylish, matching the appearance of the boat. The boats are equipped with comfortable leather seats and the cruising experience is completed by quality music and catering service on request.  You can enjoy the trip in a luxury boat with a two-person staff in elegant uniform.
Szentendre tour

Szentendre is a small riverside town in Hungary. It is the gate of the Danube Bend. It is one of Hungary's most popular tourist destinations close to Budapest, with its museums galleries, restaurants, cafes, souvenir shops and Mediterranean ambiance.
Duration: 35 minutes/one way
Price: 255 EUR/boat
Visegrád tour

Visegrád is a small castle town in Pest county. It is famous for the remains of the Early Renaissance summer palace of King Matthias Corvinus of Hungary and the medieval citadel.
Duration: 1.5 hours/one way
Price: 675 EUR/boat
Esztergom tour

Esztergom is a town in northerrn Hungary, only 45 kilometres northwest of Budapest. It lies on the right bank of the river Danube. The Esztergom Basilica is the largest church and the tallest building in Hungary. Its museum is the largest ecclesiastical collection in Hungary.
Duration: 2 hours/one way
Price: 915 EUR/boat
VINTAGE YACHT CRUISES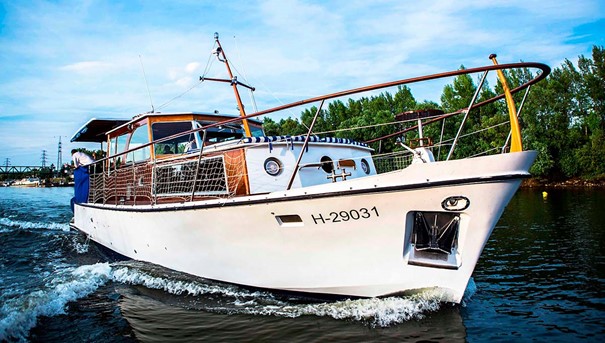 Featuring elegant white and mahogany hues, this beautifully renovated German oldtimer pleasure boat can accommodate 12 passengers at a time, and anyone on board can enjoy several facilities for chilling out in style, like indoor and outdoor lounge areas equipped with graceful dining tables, as well as a spacious sun deck with comfortable mattresses to recline on; what's more, the boat  is equipped with central heating, a small galley, a nice bathroom with toilette, and a dining room. The yacht is available to rent for a variety of occasions, including sightseeing trips in Budapest or upriver cruises to nearby waterfront towns, but the vessel can also be booked for dinner cruises, or wine-tasting events. Maximum travel speed: 17 km/h.
Szentendre tour

Szentendre is a cozy little Baroque town by the Danube bank, 20 kilometres away from Budapest. Its vibrant cultural life together with its beautiful architecture attract many visitors throughout the year. A perfect destination to go for a boat excursion, have a good meal and relax in charming little cafes and romantic narrow alleys.
Duration: 4 hours + 1.5 hours waiting
Price: 840 EUR/boat
Visegrád tour

The former summer residence of King Matthias of Hungary and the royal castle of Visegrád offer a sneak-peak into Medieval and Renaissance life. Positioned on top of a spectacular hill overlooking the Danube, the castle complex is one of the best preserved fortifications in Hungary. Medieval festivals in the summer revive deadly battles, colorful customs, and tasty dishes.
Duration: 6 hours + 3 hours waiting
Price: 1,450 EUR/boat
Extra waiting fee: 65 EUR/hour
YACHT CRUISES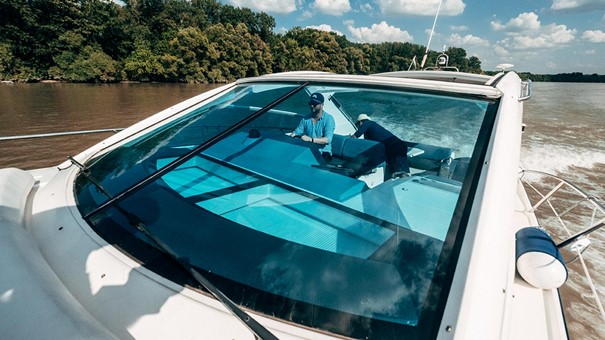 The Sealine SC-38 type 10-passenger sports yacht with a maximum travel speed of 50 km/h is an excellent choice for boat excursions. Amenities include a bathroom with toilette. The yacht is powered  by two 330 horsepower engines.
Szentendre tour

Szentendre is a cozy little Baroque town by the Danube bank, 20 kilometres away from Budapest. Its vibrant cultural life together with its beautiful architecture attract many visitors throughout the year. A perfect destination to go for a boat excursion, have a good meal and relax in charming little cafes and romantic narrow alleys.
Duration: 1 hour + 1.5 hours waiting
Price: 630 EUR/boat
Visegrád tour

The former summer residence of King Matthias of Hungary and the royal castle of Visegrád offer a sneak-peak into Medieval and Renaissance life. Positioned on top of a spectacular hill overlooking the Danube, the castle complex is one of the best preserved fortifications in Hungary. Medieval festivals in the summer revive deadly battles, colorful customs, and tasty dishes. Ideal destination for a family boat excursion, but we also recommend it for foodies or cultural heritage fans.
Duration: Maximum 4 hours according to the program
Price: Ask us for a tailor-made offer
Esztergom tour

A longer cruise along the Danube that touches Szentendre and Visegrád before it reaches its final destination, the High-Medieval Royal Castle and crowning basilica of Hungarian kings in Esztergom. A spectacular journey with stops on the way by uninhabited islands and untouched nature. This excursion takes a whole day, but you can distribute your time as you wish among the stops according to your interests and mood.
Duration: Maximum 6 hours according to the program
Price: Ask us for a tailor-made offer
Extra waiting fee: 130 EUR/hour